UPDATE – HRD Software has posted a statement on the issue.
http://www.hrdsoftwarellc.com/pr.html
On Thursday, December 15, 2016, in a post entitled "Ham Radio Deluxe Support hacked my computer," N2SUB said:
I opened a support ticket with HRDSOFTWARE, and was told that I needed to download and install the latest build of version 6.22, and then they would be able to provide support. I followed their directions, and once the download was installed the program started, displayed the splash screen and then completely shut down. I reported this in the ticket, and got an IMMEDIATE response:

****
"I'm sorry, but your support has expired and we are unable to provide any further support.

We would also like to request that you NOT RENEW your support nor use our software due to the review you placed on eHam back in September. Remember that? http://www.eham.net/reviews/review/143372

Good luck, and 73 HRD Tech Support"
****

I called the support line and asked them to explain what they were doing, and they informed me that I was blacklisted and the file they directed me to download blocked the software on my computer from running. TWO DAYS LATER, THEY CONTACTED ME AND STATED THEY WOULD UNLOCK MY SOFTWARE IF I REMOVED THE REVIEW I POSTED.
Many pages of comments followed with speculation as to what exactly happened. N2SUB later posted a PDF of the support ticket. HRD support posted the entirety of the software's license agreement into the support ticket, including #8:
8. We reserve the right to refuse service and disable a customer's key at any time for any reason
I am not a lawyer – but this appears to mean that what they did to N2SUB's ability to use the software was completely legal under the contract between HRD Software, LLC and N2SUB.
Some forum users then brought up the recent bill that President Obama signed into legislation, which makes retribution for bad reviews illegal. Other users noted that this incident took place prior to the bill being signed.
At one point, the QRZ thread was deleted. Many users said they thought that was done because QRZ has a cozy relationship with HRD Software. Other threads popped up on the QRZ forum. Eventually, the QRZ admins reinstated the deleted thread and merged it with the others.
On Friday afternoon, NY7N posted the results of some analysis he did of the software's license check procedure. As it turns out, it opens an unencrypted TCP connection to a server, runs a check on a call sign, and returns a license status, here is the screen shot that was posted:
This clearly shows that N2SUB had been blacklisted from using the software. The implication here is that there was no hack of his computer, no virus or trojan horse as had been speculated. The software does an online license check back to an HRD server, and if the callsign is blacklisted, it will simply not function.
An enterprising reddit user, Fohdeesha, used this server to cross-check negative reviewers with their blacklisted status. He was able to show that this has been a common practice for HRD: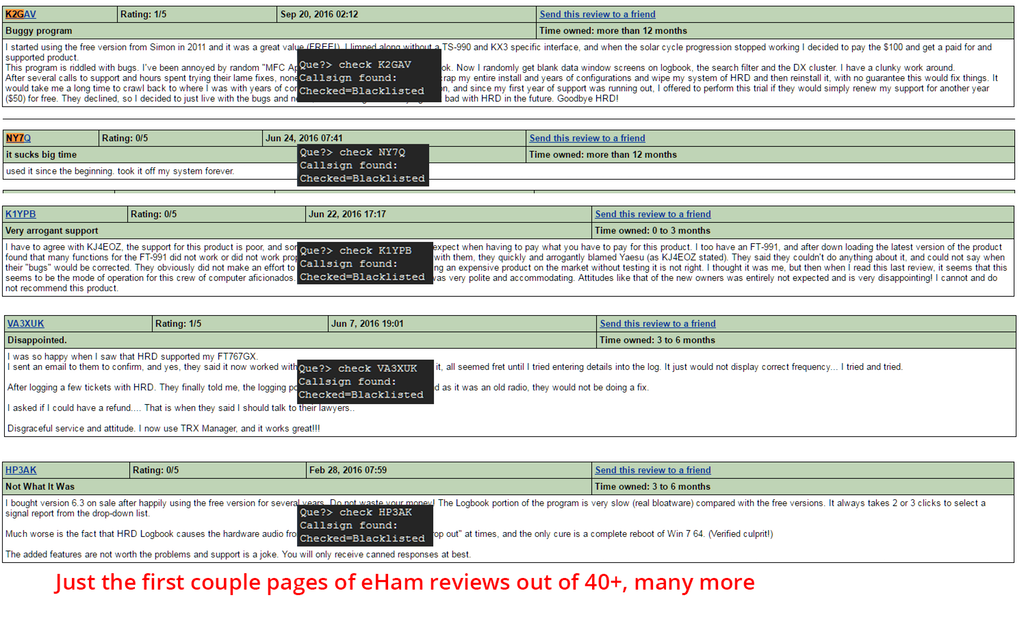 Indeed, most of the users that had left negative reviews were blacklisted.
That afternoon, HRD Software responded by posting this tweet:
We we have an official statement soon, but we do not condone anyone that blacklisted any ham for a bad review

— Ham Radio Deluxe (@HamRadioDeluxe) December 16, 2016
On Saturday afternoon, they posted a full statement as a series of tweets. I have reconstructed the tweets into one quote:
want to make a statement of apology on behalf of HRD Software. We regret that we have been unable to maintain our high standards of quality in our service to one of our customers. I have reached out to this customer to correct this regrettable situation. I am looking forward to speaking with him. We apologize for what has happened here. I have stepped in and personally taken corrective actions to ensure that this mistake does not get made again. It is not the policy or practice of HRD Software, LLC to retaliate, in any way, when negative, reviews are made about our company, its products, or our employees. If this has happened in the past, I'm sorry. It won't happen again. We will strive to avoid, even the suspicion of, such things in the future. Best wishes in your continuing enjoyment of our hobby.

Regards,

Dr. Michael Carper
WA9PIE
Owner/Partner HRD Software LLC
[email protected]
At this time, it appears that HRD is no longer blacklisting users.
Was this enough? Feel free to share your thoughts.
Further reading: